Remember the post explaining my new obsession with refinishing furniture? Well, I finally got around to flipping our buffet table for the dining room from a $20 yard sale purchase to a piece that I couldn't imagine being anywhere else but our house. I'm in love with it.
I forgot to take before pics prior to sanding, but you get the idea.
Voila!!
I'm in love with this owl decal. Check out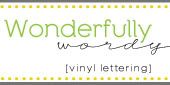 for super fun vinyl from Shelley!
A little decor for the season.